Preparation for Installing a MapR Cluster.
Prepare for Installation
Intro
When you have finished with this section, you will be able to:
Identify Node Types
Node Types
Data Nodes:

Store data
Run application jobs
Process table data
Control Nodes:

Manage the cluster
Establish communication between cluster and client nodes
Client Nodes:

Submit jobs
Retrieve data
Control-As-Data Nodes:
Smaller clusters may combine control and data nodes

Prepare and Verify Cluster Hardware
Prepare Cluster Hardware
Cluster requirements
Minimum requirements are just that: minimum

Not necessarily recommended for production

Optimum specifications vary depending on:

Size of the cluster
The node type
Types of jobs that will run
How busy the cluster will be

Refer to maprdocs.mapr.com for details
Basic Requirements for All Nodes
64-bit processor(s)
Supported OS

RHEL or CentOS 6.1 or later
SUSE 11 SP2 or later
Ubuntu 12.04 or later
Oracle Enterprise Linux 6.4 or later

Java installed (requires JDK, not just JRE)

Sun Java JDK 1.7 or 1.8
OpenJDK 1.7 or 1.8

Sync to an internal NTP server
Unique hostname for each node

hostname –f returns appropriate values

Resolvable with all other nodes with both forward and reverse DNS lookup
Identical credentials and UID/GID on each node, for any cluster user

MapR administrative user (mapr by default) is created during install if it does not exist

Common unified authentication on all nodes

Memory Requirements
Other recommendations:

Do not use numad (Non-Uniform Memory Access Daemon)
Set vm.overcommit_memory=0 in /etc/sysctl.conf
Cluster Storage
Raw, unformatted disks
Best: three or more disks per data node
Recommendations( due to unnecessary overhead on cluster performance):

Do not use RAID
Do not use LVM (Logical Volume Manager)
Cluster Storage Requirements
Determine size of data
Multiply by replication factor
25% overhead

Log data, MapReduce data, temp files

Local File System Requirements
Local Storage
Put some directories on their own partition

/opt (at least 128 GB)
/tmp (at least 10 GB)
/opt/mapr/zkdata (about 500 MB)

Swap space: 24 to 128 GB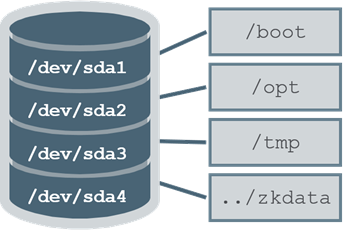 Boot Drive
Use LVM; its a good idea to use LVM on boot drive, but it should not be used on cluster storage

Easily grow file systems later

Mirror the boot disk

Facilitate recovery in case of failure
Network Ports Used by MapR
Port 9443: UI installer
Port 8443: MapR Control System
Full list in online documentation
Pre- and Post-Install Tools
MapR tools used for pre-install and post-install tests available here
Audit the Cluster
Ensure prerequisites are met
Identify component disparities:

Disk size, cache, rpm
Disk controller issues/bottlenecks
Number of drives per controller
Test Nodes
Pre-Installation Testing
Start with subsystem components in good order

One slow node can drag down performance

Establish performance reference values
Identify component disparities
End goal: get as much work through cluster as you can with minimal downtime
Pre-Install Tests
stream
Tests memory and gives clues to CPU performance
Measures sustainable bandwidth, not peak performance
IOzone
Destructive read/write test
Run multiple times to verify repeatability
Look for bottlenecks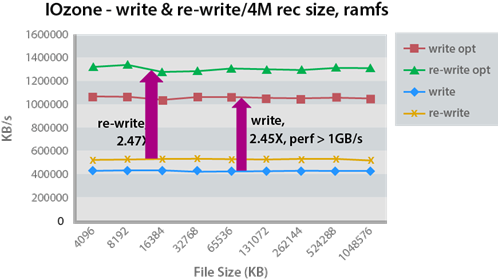 rpctest
MB/sec network can handle
Test between pairs of nodes

Point-to-point connections

Test multiple node pairs concurrently

Look for same results as sequential test
Indicates how well switches are working
Plan the Service Layout
Service Layout Considerations
MapR runs on clusters of one-two nodes
High Availability (HA) requires three or more, since ZooKeeper must be installed on an odd number of nodes
Rough size range:

Small (< 10 nodes)
Medium (10-25 nodes)
Large cluster (25 up to 1000s of nodes)

Not all services required
Layout will evolve over time
Plan initially, then monitor to see if service changes are needed
The role of each service

How many of each are essential
How many needed for High Availability (HA)

Resource requirements for services
The size of your cluster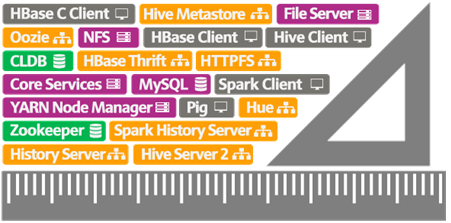 Overview of Services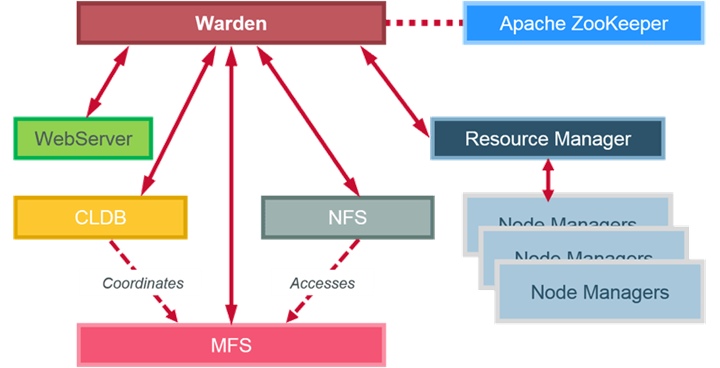 To see the services configured for a node, view /opt/mapr/roles
Services: ZooKeeper
Coordinates other services
Provides:

Distributed and synchronised configuration
Storage and mediation of configuration information
Resolution of race conditions

Runs on an odd number of nodes

One, three, or five on separate nodes
A quorum (majority) must be up

Start before other services
Run on control nodes, or control-as-data nodes
Services: Warden
Coordinates cluster services

Light Java application
Runs on all nodes

A MapR-specific service
Job on each node is to:

Start, stop, restart services (except ZooKeeper)
Allocate memory to services
Services: CLDB
Tracks and dispenses container information
Can be one to three
Master CLDB accessed for writes

Other CLDBs on standby and accessed for reads

Automatically restarted on failure
CLDB failover is automatic with Converged Enterprise Edition

Different procedure for Converged Community edition

Run on control nodes, or control-as-data nodes
Services: ResourceManager and NodeManager
ResourceManager
Manages cluster resources
Schedules applications for YARN
Two required for HA

Prefer three on large clusters
One active, others standby

Run on control nodes, or control-as-data nodes
NodeManager
Works with ResourceManager to manage YARN resource containers
One per data node and control-as-data node
Services: MapR File Server
MapR FileServer (MFS) manages disk storage
Run on all nodes that store data
Must run on any CLDB nodes
More Services
NFS provides read/write Direct Access NFS™

Recommended for all nodes

HistoryServer archives MapReduce job metrics and metadata

One per cluster; typically on a control node

Webserver provides access to the MCS (MapR Control System)
Running Services on the Same Node
CLDB and ZooKeeper
On small clusters, may need to run CLDB and ZooKeeper on the same node.
On medium clusters, assign to separate nodes.
On large clusters, put on separate, dedicated control nodes.
ResourceManager and ZooKeeper
Avoid running ResourceManager and ZooKeeper together
With more than 250 nodes, run ResourceManager on dedicated nodes
Service Guidelines for Large Clusters
Avoid running MySQL Server or webserver on a CLDB node
Sample Service Layouts
Small HA Cluster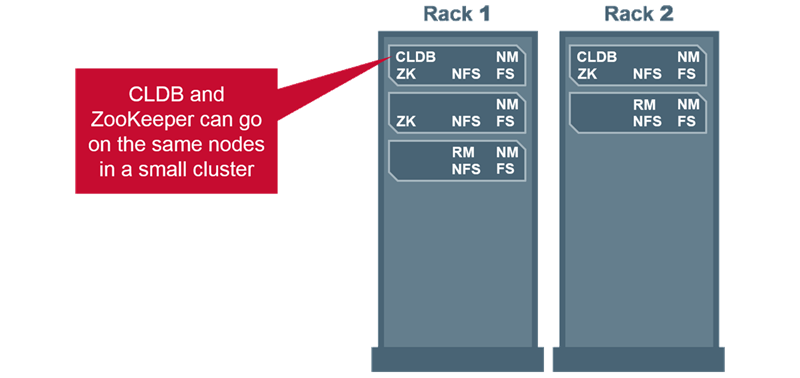 Large HA Cluster